Afternoon tea, an experience steeped in tradition but forever popular.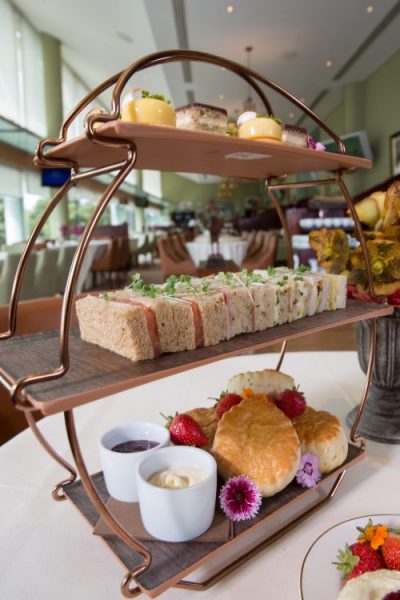 The custom of Afternoon Tea is a favourite of hotels, restaurants and caterers everywhere. Although every establishment has its own unique take on the Afternoon Tea, it generally consists of a selection of dainty sandwiches, cakes, scones with clotted cream and jam, and of course, tea!
The actual stand used, has become as much of an institution as the custom of Afternoon Tea itself. The design, functionality, style and finish of the product is just as fundamental to the perfect Afternoon Tea, as the food served.
Dalebrook's Tea Stand was first commissioned by rhubarb Food Design Ltd for their client, the Royal Ascot Racing Club. The design adds a touch of decadence and glamour to any afternoon tea set-up. Unlike other bulky stands, it can be stacked and stored neatly away when not in use thanks to its removable melamine platters.
The original Copper Tea Stand with removable Rustic Wood melamine platters has since been further developed, with two new finishes of complementing marble and slate effect platters and two stand options in chrome and black. This gives venues the opportunity to customise the look and feel of the stand and are proving to be popular with restaurants looking to create modern, contemporary afternoon tea menus.
If you are interested and would like more information, take a look at the stand here
contact us on: +44 (0) 1376 510101 or email us at sales@dalebrook.com