Designed to meet the needs of busy catering professionals and as a solution to a myriad of challenging catering problems, Dalebrook's stainless steel, 3-tier Twist Stand looks marvellous gracing any hotel, restaurant or commercial setting.
The food created by chefs deserves to be presented beautifully and showcased within stunning food displays, so it is important that stands such as this are used to create more visually enticing displays.
Whether being used in a traditional Afternoon Tea setting, as a stacking solution for sharing platters in a sports bar, or to create height and depth within a buffet presentation, the Twist Stand seamlessly pairs stylish elegance with high functionality. It is stable and durable, so can withstand daily use in busy environments and has a folding carry handle so as not to impose upon views within the dining area.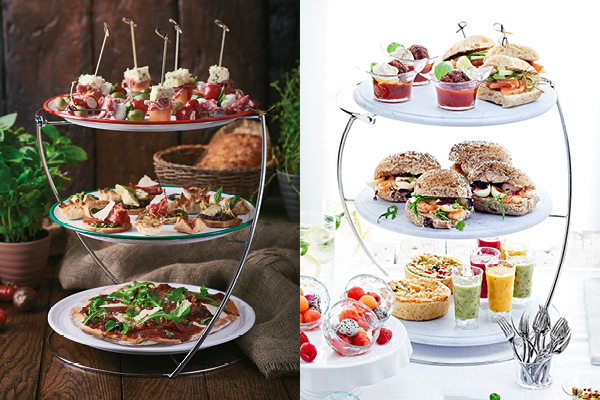 The stand can be stacked/nested to save on storage space, perfect when used in a busy service environment. It is a versatile, multi-functional product that can be used with a variety of Dalebrook's premium melamine platters, plates and bowls. Whether used with Rustic Wood Platters, Carrara Marble Platters, Stave Platters or Dalebrook's Pizza Platters, the stand can be used in any environment for any occasion, be it to showcase a centerpiece, to present beautiful canapes, buffet foods or as a pizza stand in a restaurant.
If you are interested and would like more information, take a look at the stand here
contact us on: +44 (0) 1376 510101 or email us at sales@dalebrook.com