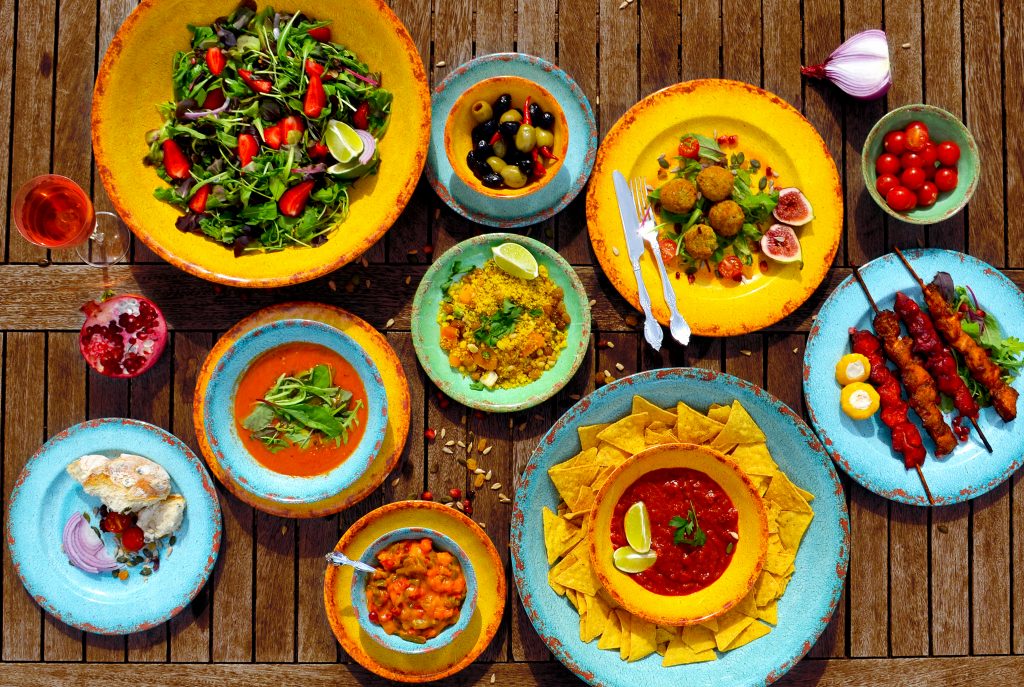 Our unique Casablanca Collection is now
available in beautiful Orange & vibrant sky Blue.
Serve up something inspirational on our newly available Orange and Blue Casablanca dinnerware.
Designed to complement the already popular Casablanca Green tableware collection, the range has the distinctive look
and feel of Moroccan culture and cuisine in mind. Perfectly timed for summer, Casablanca provides an unrivalled style
that is sure to be a showstopper at any meal, event, function, or occasion. Featuring a distressed, cracked texture,
the stunning Green, Blue, and Orange dinnerware sets are break, stain, chip, and shatter resistant,
providing peace of mind with a durable and cost effective dinnerware collection.
Shop the brand new range now on our website.
Contact us on: +44 (0) 1376 510101 or email us at sales@dalebrook.com
Blue Melamine
Casablanca
Bowl (3.5L)
TBL1631
350 x 350 x 70mm
133/4x133/4x23/4in
Blue Melamine
Casablanca
Bowl (600ml)
TBL1632
190 x 190 x 50mm
71/2x71/2x2in
Blue Melamine
Casablanca
Plate
TBL1633
280 x 280 x 20mm
11x11x3/4in
Blue Melamine
Casablanca
Plate
TBL1634
230 x 230 x 17mm
9x9x3/4in
Blue Melamine
Casablanca
Bowl (345ml)
TBL1635
190 x 190 x 27mm
71/2x71/2×11/4in
Blue Melamine
Casablanca
Rice Bowl (230ml)
TBL1636
130 x 130 x 60mm
5x5x21/4in
Orange Melamine
Casablanca
Bowl (3.5L)
TOR1631
350 x 350 x 70mm
133/4x133/4x23/4in
Orange Melamine
Casablanca
Bowl (600ml)
TOR1632
190 x 190 x 50mm
71/2x71/2x2in
Orange Melamine
Casablanca
Plate
TOR1633
280 x 280 x 20mm
11x11x3/4in
Orange Melamine
Casablanca
Plate
TOR1634
230 x 230 x 17mm
9x9x3/4in
Orange Melamine
Casablanca
Bowl (345ml)
TOR1635
190 x 190 x 27mm
71/2x71/2×11/4in
Orange Melamine
Casablanca
Rice Bowl (230ml)
TOR1636
130 x 130 x 60mm
5x5x21/4in
Green Melamine
Casablanca
Bowl (3.5L)
TG1631
350 x 350 x 70mm
133/4x133/4x23/4in
Green Melamine
Casablanca
Bowl (600ml)
TG1632
190 x 190 x 50mm
71/2x71/2x2in
Green Melamine
Casablanca
Plate
TG1633
280 x 280 x 20mm
11x11x3/4in
Green Melamine
Casablanca
Plate
TG1634
230 x 230 x 17mm
9x9x3/4in
Green Melamine
Casablanca
Bowl (345ml)
TG1635
190 x 190 x 27mm
71/2x71/2×11/4in
Green Melamine
Casablanca
Rice Bowl (230ml)
TG1636
130 x 130 x 60mm
5x5x21/4in

---
Dalebrook Supplies Limited, Eastways Industrial Estate, Witham, Essex, CM8 3UA, England.
Tel: +44(0)1376 510 101. Email sales@dalebrook.com